The City Club Forums Collection
Incorporated in 1912, the City Club of Cleveland is the oldest continuous free speech forum in the country, renowned for its tradition of debate and discussion. As part of its mission to "to inform, connect, and motivate citizens to take action on issues relevant to our region and beyond," the City Club has held a weekly forum series where speakers are invited to discuss major issues that affect American life.
Hundreds of distinguished personalities have presented at the City Club over the years including politicians, labor and business leaders, scientists, educators, clergy and entertainers.
The City Club Forums Collection, located in Special Collections at the Michael Schwartz Library at Cleveland State University, contains over 2,200 audio recordings and 1,917 video recordings of these speeches, including the question and answer sessions that followed. With the support of the City Club of Cleveland, the Michael Schwartz Library has digitized and preserved these recordings for generations to come. Many speeches are now available in streaming format.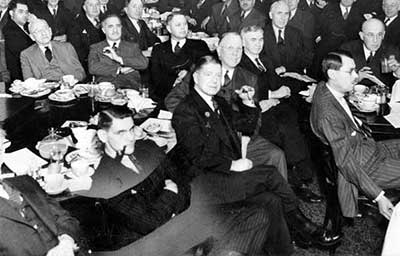 City Club audience at debate.
For Further Study: