What is the Cleveland Memory Project?
The Cleveland Memory Project, launched in 2002, is a freely searchable online collection of digital photos, texts, oral histories, videos and other local history resources, built by the Michael Schwartz Library at the Cleveland State University in collaboration with a host of community partners around Northeast Ohio.

Did you ever wonder where all these photos come from?
Here's a peek behind the scenes: an Ideastream interview with our Head of Special Collections, Bill Barrow. Local history is alive and well at Cleveland State's Michael Schwartz Library.
Cleveland Memory is an engaging look at Cleveland History —
Here serious researchers and casual browsers will find tens of thousands of historical photographs, as well as a growing collection of eBooks documenting the history of greater Cleveland and the Western Reserve region of northeastern Ohio, its industries and its people.
Rounding out this landscape of Cleveland's past is an expanding selection of vintage video and sound recordings. And all of this is delivered to you in a searchable, database that is constantly updated.
Explore Cleveland history through images and words.
Cleveland Memory is a vast photo archive —
Cleveland Memory's major attraction is images. Our collected holdings include the Cleveland Press Collection, a newspaper archive of 500,000 photographs, spanning decades of local history and events, and the Cleveland Union Terminal Collection, including thousands of photographs chronicling the construction of the Terminal Tower project in the 1920s. You'll find images of: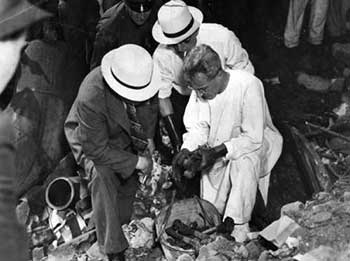 Inspecting remains of torso murderer victim, 1938.
Click the SEARCH button at the top of the page to look for photos or wander through our Web Exhibits for an engaged learning experience.
Cleveland Memory is a virtual reading room —
Visitors will also find plenty here to read:
See the complete list of ebooks available online at Cleveland Memory.
Cleveland Memory is a showcase for our collections —
The images and text used on this site are taken mostly from historical materials held in the Special Collections of the Michael Schwartz Library at Cleveland State University. Our Special Collections cover many topics within the field of Cleveland history, with special concentrations on the industrial history of Northeast Ohio, Cleveland journalism, and the infrastructure of the city. Major collections include:
We are committed to preserving and sharing this wealth of information and material, and Cleveland Memory is our showcase.
Cleveland Memory is a collaborative effort —
Hard work by the Library's Digital Production Unit, Instructional Media Services, Systems Division and Technical Services Department account for a majority of what you see in Cleveland Memory.
Practicum students, interns, volunteers, and high school students on senior projects contribute valuable time and creativity to CMP's thematic Web Exhibits.
We have benefitted from partnerships with Rocky River Public Library, Shaker Heights Public Library, Westlake Porter Library, Hathaway Brown School and many more, who use remote workstations to add records of photos from their own collections into our database.
However, our most valuable collaborators are our donors. If you have photographs or other historical items which you think might be of interest, and which you'd be willing to either donate or lend to the Library for digitizing, then we'd love to hear from you.