You Can Be a Part of Cleveland Memory!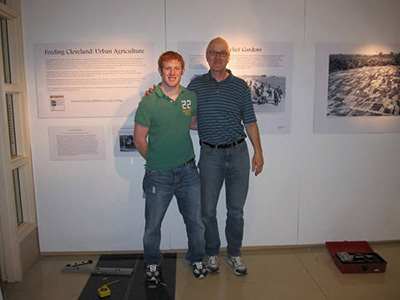 CSU Student Assistant Andrew Cole and volunteer Thomas Yanks help install the
Feeding Cleveland: Urban Agriculture
gallery exhibit at the Maxine Goodman Levin College of Urban Affairs, CSU, May 6, 2009.
See more photos of the event
.
We hope you enjoy the Cleveland Memory Project and find the information and images on local history valuable. If you would like to get involved, here are ways you can help us in our mission to preserve Cleveland's memories:
Donate Your Photos
If you have photographs or other historical items you think might be of interest, and are willing to either donate it to Special Collections at the Michael Schwartz Library, Cleveland State University, or let us make a copy for digitizing, then we'd love to hear from you.
We've already had people donate important items that are now on the web, such as the thousands of Cleveland Union Terminal construction photographs donated by Gerald Adams and Robert Linsey and the large collection of photos documenting transportation history in the greater Cleveland area donated to us by Bruce Young.
Other donors over the years have included Joseph E. Cole (The Cleveland Press Collection), John Horton (Cleveland Illustrated and the Marquis de Lafayette Microfilm Collection, and Dr. Walter C. Leedy (Postcards of Cleveland), to name just a few.
If you're not quite ready to make a permanent donation, consider lending us your collection for digitization.
Donate Your Time
Many of our web exhibits are the work of library school practicum students and history department interns. These practicum students and interns work with the Special Collections Librarian to gain an experience both academic and practical in nature. High school students working on their senior projects have also contributed to Cleveland Memory by digitizing materials available on our website. Volunteers with nothing more than an interest in local history and the desire to help have assisted in identifying content in our photographic collection or gathering material from donors.
Donate to Our Fund
It will come as no surprise that digitizing materials costs money. Although in some cases we can give employment to students to help, we still need funds to pay them and to acquire the materials and technology with which they would work.
You can help by donating to the Cleveland Historical Materials Library Endowment (aka Walter C Leedy, Jr. Endowment Fund), which was established for the purchase of local history materials for the Michael Schwartz Library's Special Collections department, home of the Cleveland Memory Project.
Donations to this fund can be sent to:
Cleveland Historical Materials Library Endowment Fund
c/o Cleveland State University
Michael Schwartz Library
2121 Euclid Avenue
Rhodes Tower 501
Cleveland OH 44115-2214
Please make checks payable to the Cleveland State University Foundation and include your contact information to receive proper acknowledgement.
Questions?
For questions about the Cleveland Historical Materials Library Endowment or other ways to help, please contact us online or in person. Thank you.