Postcards of Cleveland
About the Donor, Dr. Walter C. Leedy, Jr.
Dr. Walter C. Leedy, Jr. a professor of Art in the Department of Art at Cleveland State University, taught art and architectural history and, through his joint appointment in Urban Studies in the Maxine Levin College of Urban Affairs, also taught the history of the urban environment.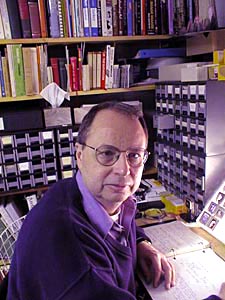 Born in Detroit, Dr. Leedy grew up in Dearborn. He received the degrees of Bachelor of Architecture and Master of Architecture from the University of Michigan, and did graduate work at the University of California/Santa Barbara, and the Courtauld Institute of Art of the University of London, where he received a Ph.D. in the History of European Art, majoring in Medical Art and Architecture.
Dr. Leedy was an international authority on late medieval architecture, and his publications included the books, Fan Vaulting (London, Santa Monica, 1980), Terminal Tower, Tower City Center (with John Grabowski, Cleveland, 1990) and Cleveland Builds an Art Museum: Patronage, Politics and Architecture 1884-1916 (Cleveland, 1991). Articles of his were published in Scientific American, Art Bulletin, Gesta, Architectural History, The Gamut, Architronic: An Electronic Journal of Architecture, and in the Acts of the XXth International Congress for the History of Art.
His current research included a cross-disciplinary approach to the study of the American skyscraper, modernism in American architecture, especially the architecture of Eric Mendelsohn, and the relationship between advertising and the development of urban imagery.
Walter Leedy began his comprehensive collection of Cleveland postcards, now numbering nearly 8,000 in earnest in 1989. The earliest of Leedy's postcards date from 1898. Major highlights include several 32 inch long panoramas of Cleveland, and major people in Cleveland's popular history, such as Bob Feller and Satchel Paige, starting pitchers for the 1948 World Champion Cleveland Indians.
His interest in the construction of the Terminal Tower arose after he spent a summer studying dozens of boxes of old papers and drawings stored in an abandoned employees' lavatory in the Tower. This led him to 90 filing cabinets of Terminal Tower records in the possession of Mr. Gerald Adams, who has since donated the materials to the CSU Library.
Dr. Leedy passed away November 8th, 2006, following a stroke.
View a video tribute to Dr. Leedy.
More about Dr. Leedy may be found at: