Gerry Adams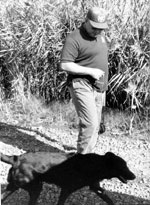 Cleveland Union Terminal Collection donor Gerry Adams was a railfan, train-spotter and habitué of railroad facilities most of his life. He had a vast knowledge about local railroad history, particularly the part of it that is still visible from the ground. Driving through the Flats with him was a education in the stories behind ruined building foundations, weed-choked bridge approaches, abandoned passenger stations, former streetcar power poles, and grades and fields where vast amounts of tracks once ran before tax rules caused them to be pulled up.
He'd delight in taking people on hair-raising rides alongside the railroad tracks in his pickup truck, "Big Red," accompanied by his faithful canine companions, Zeus and Thor, and smoking big cigars. He would cheerfully talk on the telephone for hours, answering questions about railroad history.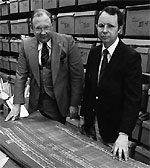 When a friend, the late Vernon Murray, a Cleveland Union Terminal employee, told him in the early 1970s that they had orders to throw away a massive assemblage of office records, Jerry rushed over, purchased the entire lot, and hauled it to a storage locker. There it languished, though safely, while he found it a permanent home in Cleveland State University Library's Special Collections.
No single gift has contributed more toward building Special Collections as a local railroad history repository. This gift has prompted other major gifts from Robert Linsey and the Greater Cleveland Regional Transportation Authority.
Gerry died in 2000 and willed another sizeable collection of general railroad materials to Cleveland State, but nothing Gerry gave can compensate for the loss of his humor, knowledge and generosity.