Ethnic Women of Cleveland
Helen Karpinski Biography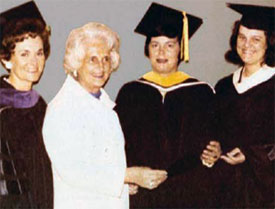 Personal
Born October 7, 1899 in Cleveland, Ohio.
Daughter of Anna Grabowski and Jan Olszewski
Married in 1925 to the late John Karpinski, who won the title of Amateur Welter-Weight Champion of the World.
Mother of three Daughters: Gloria Joy Battisti, M.S.W., Mercedes Spotts, Esq., and Diane Karpinski, Judge in 8th District, Ohio Court of Appeals.
Died July 10, 2002.
Government Service
1969-1978: Member, Cuyahoga Board of Tax Revision.
1959-1968: Member, Cleveland Civil Service Commission.
1945-1959: Deputy Clerk, Jury Commission, Court of Common Pleas, Cuyahoga County.
Appointed under Mayors Celebrezze and Locher, as well as Cuyhoga County Commissioners, she was one of a very few women holding these positions at that time.
Political Activities
1970: Chaired the successful state-wide campaign of Gertrude Donahey, first woman to be elected as Ohio Treasurer and to any state administrative office.
1967-1969: President, Federated Democratic Women of Ohio. Served in numerous offices in the Federation.
Under her leadership as President, the Federated Democratic Women of Ohio drafted a candidate for Treasurer of the State of Ohio, Gertrude Donahey. Helen chaired a state-wide grass roots selection process that reached into almost every county of Ohio. As she led the women in an energetic and successful campaign for the candidate the women selected, she advised the members, "Go back to your local groups, stand up and say, I wish to speak for a candidate. Just say three sentences and sit down. Remember, if you do not speak up for her, no one else will." Later, women from all over the state came back to tell her they had never spoken up before, but once they had "discovered their voice" they went on to speak for themselves and run for office. They reported winning for school boards and city council seats.
At various times throughout her life, she served as a member of the Democratic Party at all levels: Cuyahoga Central and Executive Committees, Ohio State Executive Committee (serving as Vice Chair), and the Democratic National Committee.
1937-1950: Democratic Ward Leader, 21" Ward of Cleveland. In the 1930's she chaired a committee of Democratic women ward leaders in their successful fight opposing the sale of Cleveland Municipal Light Plant.
1939: First woman to survive a primary election for Cleveland City Council under the current city charter.
Previously, women had been elected to City Council under a City Charter that called for specific representation. When the City Charter changed, no women were elected. Helen Karpinski was the first woman to run under the new City Charter and survive a primary. She placed ahead of the incumbent, who had previously been elected sheriff. But she lost in the general election to a man who campaigned with the question, what does one woman want to do there with all those men? Other women candidates who followed were interested more in her success in the primary. Councilwoman Mary Sotak said that Helen showed the way because she proved it was possible for a woman to defeat and incumbent.
1953-1954: President and a founder of Women"s Cosmopolitan Democratic League of Cuyahoga County.
1968: Member of the prestigious Credentials Committee of the Democratic National Convention.
1960-2001: When she moved to Ward 4, she was elected as a member of the Democratic Central Committee and served on the Executive Committee until shortly before she died at the age of 102. She also served as an officer in the Cuyahoga Hungarian Democratic League, even though she was not Hungarian.
1980-1984: Member of Democratic National Committee, as well as its Ethnic Committee.
Civic Organizations
1986: Selected to participate in the Cleveland Stite University's Ethnic Women Oral History Project. Her oral history was taken and a transcript of that interview preserved in the Cleveland State University Library.
1986: Ohio Advisory Committee for Statue of ]Liberty Centennial.
1982: Served on Advisory Committee, Cleveland State University National Conference on Ethnic Women.
1945-2002: Cleveland Cultural Gardens Federation. Served as Treasurer (14 years), Financial Secretary, Vice-President, and Trustee of the Leo Weidenthal Endowment Fund. She helped to establish the Polish Garden. Through her leadership, funds were acquired for a sculptured bust of Madame Marie Curie. Her sister-in-law Marie Rosinski spearheaded the fund raising for the fountain in the Polish garden.
1945: Treasurer, Catholic Ladies of Columbia.
1941-1943: President, American Polish Women's Club. For most of its years she served as Parliamentarian. She chaired the U.S. War Bond Sale.
She frequently served on various committees ranging from the Mayor's Safety Committee to committees to inform the electorate on bond issues and tax levies.
She was a member of the Alliance of Poles and the Polish Women's Alliance of America, in which she served for 20 years as a chapter officer. She was an organizer and officer of the Ladies Auxiliary of the Polish legion of American Veterans, George Washington Post # 31.
Community Awards
1997: Honored at first "Flags of the World Day Celebration," by Mayor White for her contribution to the Cultural Gardens.
1988: Received the Cuyahoga Women's Political Caucus Political Achievement Award for encouraging and supporting women's involvement in all facets of the political process.
1986: Received WomenSpace Josephine Irwin Award for outstanding service in recognition of her efforts on behalf of women and her community.
At this event she received a resolution from the Ohio Legislature presented by State Representatives Vem Riffe and Jane Campbell, stating: "Your achievements have helped guarantee a place for women as activists and office-holders in local, state and national government for the future. You give clear evidence that one person can make a difference in our world and affect the lives of others in a very positive way."
1985: Inducted into the Grand Knights and Ladies of Pulaski.
1984: Received Heritage Award for Distinguished Community Service,
Polonia Foundation of Ohio.
1983: Special Honoree, Ohio Women's Hall of Fame.
1982: Received Distinguished Service Award, American Polish Women's Club.
1974: Received Ohio Democratic Women of the Year Award, Federated Democratic Women of
Ohio.
1965: Received Community Service Award, Baptist Ministers Association.
1959: Received Public Recognition Award, Women's Cosmopolitan Democratic League.
She was listed in Who's Who in American Politics, as well as Polish American Who's Who.