Industrial Rayon Corporation: Celebrating a Special Workplace
More About the Company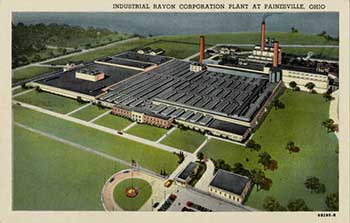 Industrial Rayon Corporation plant at Painesville, Ohio, ca.1950.
Industrial Rayon Corporation, initially Industrial Fibre Company, manufactured the world's first synthetic fiber from a wood product called viscose. This chemical fiber was heralded as "synthetic silk" in early Cleveland Press newspaper articles. The West Boulevard neighborhood plant produced rayon batch by batch in a long process under demanding temperature and chemical pulp-processing conditions.
During the depression years, the plant provided employment seven days a week and tax revenues to the city. Rayon was in demand by the textile industry, and the company prospered.
As rayon production increased, residential neighbors lodged complaints with city officials about noxious fumes. Months of meetings, chemical research and public hearings ensued. Unions and strikers demonstrated for wage and hour improvements. The Cleveland Press published complaints about property damage and health problems from fumes. Company officials countered plans for plant expansion and with proposals to move their business out of state.
In the 1930s after a $2,000,000 research effort, a revolutionary continuous spinning process allowed Industrial Rayon Corporation to supply the textile mills with rayon yarn uniform and perfect "inch by inch and mile by mile." The world-class Painesville plant was built in 1938 to specifications for this streamlined process. This assembly line-style automated process was just in time for production of reinforcing fabric needed for tires and other automotive products in World War II.
Following the glory days of World War II synthetic fibers such as nylon and other polymers provided competition in the market place. After the adjustment to peace-time manufacturing demands and during the industrial movement to diversify, Industrial Rayon Corporation was purchased by Midland-Ross Co., another Cleveland company supporting the automotive industry. As a division of Midland-Ross, the rayon manufacturing division was known as IRC Fibers. IRC Fibers became a division of American Cyanamid of New Jersey in 1969.