The Darius Milhaud Society Collection
Darius Milhaud (1892-1974) was a French composer and teacher. He was a member of Les Six (also known as The Group of Six) and one of the most prolific composers of the 20th century. A modernist composer, his compositions are influenced by jazz and make use of polytonality.
The rise of Nazi Germany and invasion of France forced the Milhauds to emigrate to the United States in 1940. Because of his Jewish background, Milhaud could not return to his native country until after the war concluded. He secured a teaching post at Mills College in Oakland, California, where he composed and collaborated with other composers during the war years.
From 1947 to 1971, he taught alternate years at Mills and the Paris Conservatoire, until poor health compelled him to retire. He died in Geneva at the age of 81, and he was buried in the Saint-Pierre Cemetery in Aix-en-Provence.
During his tenure at Mills College, Darius Milhaud became acquainted with one of his students, Katharine Warne. Warne studied composition with Milhaud during her undergraduate career at Mills College and completed compositions, sketches, and homework during her time as a student with him. Upon graduating from Mills College in 1945, Katharine Warne maintained contact with Darius and Madeleine Milhaud (Darius' wife), often attending Milhaud's birthday celebrations at Mills College.
Katharine Warne created the Darius Milhaud Society in 1984, 10 years after Milhaud's death, with the purpose of preserving and promoting his works and legacy. As founder and president of the society, Warne maintained a personal and professional relationship with Madeleine Milhaud, who performed in concerts and provided information about Darius for the society.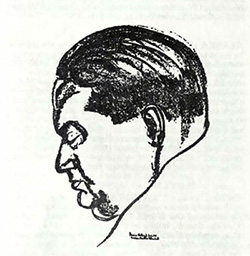 Drawing of Darius Milhaud made by Marion Claudel in January 1944.
The Darius Milhaud Society published a newsletter for almost every season from 1985 to at least 2002. The Newsletters contain details about performances and festivals of Milhaud's music as well as a plethora of information relating to or directly about Darius Milhaud. Katharine Warne appears in photographs with or relating to Madeleine Milhaud in these newsletters.
The newsletters contain valuable glimpses of the body of Milhaud's work, interviews with Madeleine Milhaud, people that were connected with Milhaud. Included in the newsletters as well is a chronicle of virtually every performance of Darius Milhaud's music since 1985, including descriptions and performance details.
About the Collection
This collection is a compilation of photographs, programs, books, articles, correspondence, scores, and other materials relevant to French composer Darius Milhaud and the Darius Milhaud Society founded by Dr. Katharine Warne. All papers found in this collection were provided by the Darius Milhaud Society.
Included are letters, books, and articles written by or about Darius Milhaud, photographs of Darius Milhaud and events for his music, program and festival guides for performances of Milhaud's work, and many of Darius Milhaud's original compositions, some hand-written and some in print. Also included in the collection are photographs for the Darius Milhaud Society's and other Cleveland area musical events, as well as documents regarding the Darius Milhaud Society. Archived in these documents are official and personal correspondence with President Katharine Warne, letters to/from Madeleine Milhaud, and Darius Milhaud Society Newsletters, along with handwritten notes, drafts and records involving Darius Milhaud Society business.
Books Available for Purchase
For Further Study
Credits and Appreciation
Organization of the Darius Milhaud Society archival performed by Sarah Boyle and Kyra Mihalski. Accompanying archival material related to Katharine Warne organized by Kyra Mihalski. The Michael Schwartz Library would like to thank the family of Katharine Warne for their financial support in funding the processing and curation of this collection.