Cleveland Public Schools Horticulture Program
Over 100 years ago, Cleveland Public Schools Horticulture Program educators began to develop and refine an innovative K-12 horticulture education program in the Cleveland, Ohio public schools. Alumni of this program testify to the profound positive impact it had upon their lives.
The Cleveland Public Schools Horticulture Program Collection, which thanks to generous donations now includes images, audio and digital media, curriculum materials, program administration materials, programs, brochures, awards, blueprints and more, stands as a testament to the earnest work of the young student gardeners and the devoted educators who guided them.
About the Program
A timeline/history of the Cleveland Public Schools Horticultural Program from 1969 provides a capsule summary of its first 65 years, while a 1948 report, (courtesy of the Cleveland Public Library)  "Gardens in the Cleveland Public Schools" written by then Supervisor of School Gardens, Paul R. Young, offers a snapshot of the program as it existed in the post-WWII years.
The CPSHP had four directors from 1904-1980: Louise Klein Miller, Paul R. Young, Herbert G. Meyer, and Dr. Peter Wotowiec. These educators provided an inclusive learning environment in which every single child, regardless of "classroom achievement" had the opportunity and support to succeed. Every step along the way would be monitored and recognized.
Coupled with the very tangible and "grown-up" reward of successful gardening, FOOD as well as flowers, the program had numerous incentive programs and generous rewards for every student who participated. Read a poem by an alumnus that illustrates the successful outcome of this education program.
The education outcome for these students extended far beyond the garden and long after the end of the season. In 1978, Dr. Peter J. Wotowiec, then-supervisor of the Horticulture department in the Cleveland Public schools, wrote that not only academic subjects including math, reading, and science, were covered in the children's gardening program. In his own words: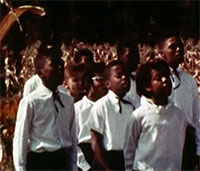 Still frame from the documentary, Who Grows the Most? Watch this video now.
"Gardening should be a part of the total education of every child."
What happened to the program?
In 1978 the leaders of the Cleveland Public Schools were faced with the combination of a budget shortfall and a court decision that required an immediate and expensive expansion of student bus transportation. They eliminated the school garden program to cut costs.
Web Exhibit Features