Cleveland's Journalists & Columnists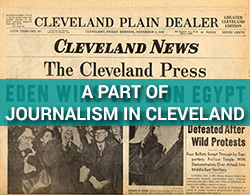 Because of its strong tradition in the newspaper business, Cleveland has produced a long line journalists and columnists who have recorded and commented on the story of Cleveland and its citizens. Use this page as a pathfinder to learn more about some of Cleveland's journalists and columnists and how they informed the readers of the Cleveland Press and Plain Dealer.
Theodore Andrica (1900-1990), Nationalities Editor, Cleveland Press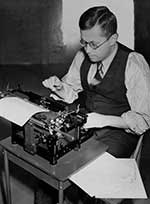 Theodore Andrica at typewriter, 1938
Theodore Andrica was a reporter and Nationalities Editor for the Cleveland Press from 1927 until 1973 where he wrote about ethnic Greater Clevelanders and their families here and abroad. He was born in Radna, Romania and emigrated to the United States in 1920, becoming a naturalized citizen in 1928. In addition to English and Romanian, Andrica was proficient in four other languages and, throughout his career, he spoke at thousands of meetings and banquets, promoted a series of All-Nations exhibitions in Public Auditorium, and took 16 trips to Europe, visiting the homelands and the families of his readers back in Cleveland. After his retirement from the Press, Theodore Andrica edited a Romanian quarterly that was published in Cleveland and distributed to Romanian readers worldwide, and in 1977, he wrote Romanian Americans and Their Communities of Cleveland.
In listing the things that the Cleveland Press was proud of, Dick Feagler writes in his article, "Stop the presses (for the very last time)":
Proud of the fact that Theodore Andrica, who spoke a babel of languages, was sent yearly on a trip to the old country where he would look up relatives of Cleveland's ethnic citizens and deliver greetings from the New World. Proud, indeed, that Cleveland's large Hungarian population was due in part to the fact that Andrica and Louis Clifford (perhaps the greatest city editor in the nation in the fifties and sixties) had traveled to the Hungarian border during the 1956 revolution and greeted and wrung the hands of fleeing refugees. — Cleveland Magazine (August, 1982)
Roldo Bartimole, Point of View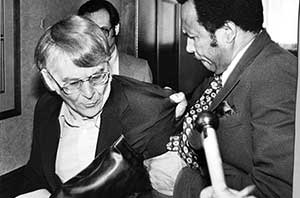 City Council President George Forbes tosses Roldo Bartimole out of special council meeting on Sohio Bldg, 1981.
Roldo Bartimole began his career in journalism in the 1950's in Bridgeport, Connecticut before moving to Cleveland where he worked for Plain Dealer and Cleveland bureau of the Wall Street Journal. Inspired by Michael Harrington's The Other America: Poverty in the United States (1962), Roldo Bartimole left conventional journalism at the age of 35 and began the publication of Point of View, a biweekly newsletter which was published from 1968-2000.
Whether you considered him Cleveland's conscience or Cleveland's curmudgeon, he exposed not only the city's ruling elite but also all the individuals and institutions in positions of power. His biweekly newsletter embodied his own sentiment that it was "impossible for me to remain a neutral observer." In 2003 Roldo Bartimole was inducted into the Cleveland Journalism Hall of Fame by the Press Club of Cleveland.
Dick Feagler (1948-2018), Columnist, Cleveland Press and Plain Dealer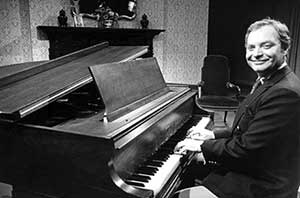 Promotional photo for prime time special on WKYC-TV Channel 3 hosted by Dick Feagler, 1981.
Dick Feagler dominated the Cleveland journalism scene, both in terms of print journalism and television, for five decades. After attending Ohio University, Dick Feagler began his journalism career at the Cleveland Press by writing obituaries. Then, in 1970 he began to write a regular column that continued until the Cleveland Press folded in 1982; for the next several years his column ran in several local papers until it was eventually picked up by the Plain Dealer in 1993. His last column was published by the Plain Dealer on January 4, 2009. Dick Feagler was inducted into the Cleveland Journalism Hall of Fame by the Cleveland Press Club in 1994.
Janet Beighle French, Food Critic/Editor, Plain Dealer
Janet Beighle French worked as the Food Editor for the Plain Dealer from 1963-1986. Before coming to the Plain Dealer, Janet French earned a master's degree in agricultural journalism and served as the cookbook editor for Better Homes & Gardens. As Food Editor, her work included a wide variety of food-related topics such as the transition of women from domestic to professional roles, an increasing interest in ethnic foods, and she also reported on government regulation, poverty and nutrition, and the beginning trends of the natural foods market. Also in her role as Food Editor, Janet French also served as food stylist for the arrangement of food and props for photographs.
Winsor French (1904-1973), Society Reporter, Cleveland Press
After several short stints with Cleveland News and Time Magazine, Windsor French joined Cleveland Press where he worked as the society reporter for more than three decades until his retirement in 1966. He reported on Cleveland's night life and culture beginning in the 1930's just as support for Prohibition was beginning to wane. He was the first reporter in Cleveland to frequent black nightclubs in the 1930's and reported on the jazz scene there. He himself was a member of high society and associated with such famous authors as John Steinbeck and Somerset Maugham and celebrities as Marlene Dietrich, Clark Gable, and Cole Porter. Winsor French was inducted into the Cleveland Journalism Hall of Fame by the Cleveland Press Club in 1985.
Frank Hruby (1919-2012), Music Critic, Cleveland Press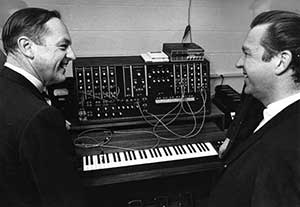 Press critic Frank Hruby (left) with Donald Erb, director of the Electronic Music Studio at Cleve. Inst. of Music, 1968.
Frank Hruby worked as the music critic and arts columnist for the Cleveland Press from 1956 until it went out of business in 1982. He was born into the Hruby Family, once known as "America's foremost musical family" which taught music and performed for three generations. In addition to his work at the Cleveland Press, Frank Hruby (VI) also was head of the music and fine arts department at University School for 27 years and served as music director and conductor for the Cain Park Summer Theater for ten years.
Betty Klaric (1932-2011), Environmental Reporter, Cleveland Press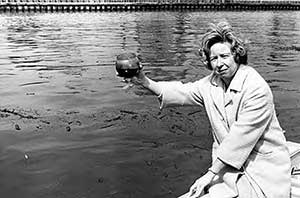 Betty Klaric holding water sample from Cuyahoga River.
Betty Klaric was an environmental journalist for the Cleveland Press. After she earned a degree in journalism from the Ohio State University, she began working at the press as a "copy boy" graduating to work as a reporter on general news assignments and, ultimately, on environmental issues. Her coverage of the pollution of Cleveland's air, water and soil instigated environmental legislation and earned her national acclaim. She strongly advocated for females journalists and was elected president of Cleveland Newspaper Guild in 1967. In 1999 Betty Klaric was inducted into the Cleveland Journalism Hall of Fame by the Cleveland Press Club.
Tony Mastroianni, Entertainment Reporter, Cleveland Press
Tony Mastroianni started his career with the Cleveland Press in 1950. Soon after he served in the Korean War for two years. When he returned to the Press, he was a police reporter for nearly two years, wrote a photography column and edited do-it-yourself features. Then in 1962, he switched gears to become an entertainment writer, reviewing professional productions as well as community theater in the area. As a movie critic, Mastroianni traveled to Hollywood and across the country, as well as to Europe and South America, to write movie location stories. In his 32 years with the Press, he was honored with three Newspaper Guild awards for critical writing and three Press Club awards. In 1984, he was given the William F. McDermott award of the Cleveland Critics Circle for contributions to the local theater. When the paper folded in 1982, Mastroianni continued his journalistic career as a freelance writer and reviewer for the Akron Beacon-Journa and as a writer and editor for Currents magazine.
City Club of Cleveland
The City Club of Cleveland is the oldest continuous independent free speech forum in the United States. The City Club has held a weekly forum where speakers are invited to discuss and debate issues that affect American life with a non-partisan spirit and in such way that celebrates freedom of speech and encourages civil, civic dialogue. Hundreds of distinguished speakers have presented at the City Club of Cleveland including not only journalists but also politicians, authors, clergy, social activists, scientists, and educators.