News & Features
On Display at the C|M|Law Library- Fifty years ago on Aug. 31, 1976, Judge Frank J. Battisti's ruling on Reed v. Rhodes was a victory for the NAACP and the desegregation movement in the U. S., but the impact of his decision on Cleveland and the public schools sparked a debate that can still be heard today. Read about this landmark case and the display in the C|M|Law Library blog. (Posted 8/16/16).

In Memoriam: Robert Page (1927-2016) - Renowned choral director and conductor Robert Page passed away Aug. 8, 2016 at the age of 89. He was best known in Cleveland as the director of the Cleveland Orchestra Chorus (1971-1989) and the Robert Page Singers (1982–98). Read his obituary from the Plain Dealer. (Posted 8/9/16).

New! Fast-Food Restaurant Industry: A Cleveland Perspective, 1930-2016 - This eBook by Richard Klein focuses on some of the fast-food establishments, large and small, that served Greater Cleveland and how they evolved over time. It also investigates some leading national chains whose innovations within the industry set the pace for current development. (Posted 8/9/16).

It's Cuyahoga County Fair Time! - The 120th Cuyahoga County Fair starts its week-long run on Monday, August 8th at the Berea Fairgrounds. Before you head over to the midway, be sure to visit our Cuyahoga County Fair Web Exhibit for a nostalgic look back at fairs from previous years. (Posted 8/8/16).

Remembering The Great Lakes Exposition - 80 years ago this summer, the Great Lakes Exposition in Cleveland was held, in part to celebrate the centennial year of the city's incorporation, but also to highlight the progress achieved in the Great Lakes region over the past 100 years while looking to the possibilities of the future. Read the recent Plain Dealer story. (Posted 8/2/16).

Local Black Inventor Garrett Morgan to the Rescue - Cleveland July 24,1916: Workmen digging in a 10' wide tunnel hit a pocket of natural gas. When a spark triggered an explosion, 11 men were killed as well as 10 more who came to their rescue but were overcome by the gas. Using a breathing apparatus he invented, Garret Morgan, along with his brother and two others were able to rescue 2 men and recover 4 bodies. Read the Plain Dealer story. (Posted 7/27/16).

We're Stepping Up Our Social Media Presence - Make sure to visit us on Facebook and Twitter to learn about and share some of the more unique, unusual and newsworthy items in our collections. Be sure to like us on Facebook while you're there! (Posted 7/14/16).

In The News: Public Square -The long renovation of Public Square is finally complete and was made official with a public ribbon-cutting ceremony on June 29th. Celebrate Public Square's past by browsing through postcards, photos and more in Cleveland Memory or read about the new Public Square at Cleveland.com. (Posted 06/29/16).

NEW! The Avon Lake Document Collection - Browse through old issues of the Avon Lake High School newspaper, literary annual or yearbook. See what made the front page of the Avon Lake Press all the way back in 1959. Brought to you by CMP partner, the Avon Lake Public Library. (Posted 06/28/16).

NEW! Muhammad Ali at Glenville High School - Listen to Muhammad Ali's inspiring speech on self-respect to the student body of Glenville High School, Cleveland, Ohio, May 25th, 1971. (Posted 06/28/16). World Journal Tribune photo by Ira Rosenberg.

NEW! The Federal Reserve Bank Building Construction Photos -78 black and white photos from the Archives of Federal Reserve Bank of Cleveland documenting the building's construction from the excavation of the site in 1921 to the completion of the structure in 1923. (Posted 06/21/16).

In Memoriam: George Voinovich, 1936 - 2016 - Former Cleveland Mayor George Voinovich passed away Sunday, June 12th at the age of 79. He devoted more than 46 years to public service, which included two terms as Governor of Ohio (1991 to 1998) and and two terms as United States Senator (1999 to 2011) in addition to his time as Mayor from 1980-1989. Read more about George Voinovich. (Posted 06/13/16).
‹
›
CMP Time Machine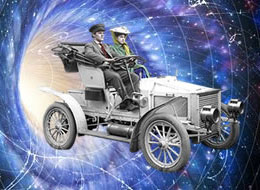 *Our thanks to The Encyclopedia of Cleveland History and the Plain Dealer (via NewsBank), sources for much of the content in our "Time Machine".
Join Our Crew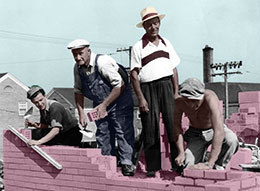 Help us preserve Cleveland's memories! Become a CMP volunteer. Lend us or donate your photos or historic items to digitize for our database. Donate to the Cleveland Historical Materials Library Endowment, which funds our work. More ways to help.
Local History Research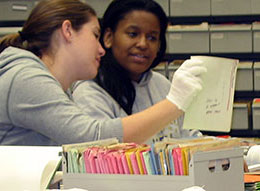 Interested in learning more about local history? Try the Cleveland Digital Library, The Encyclopedia of Cleveland History or the Ohio Memory Project. Need to consult some primary resources? Visit us in Special Collections at the Michael Schwartz Library, Cleveland State University.