Cleveland's First Infrastructure:
The Ohio & Erie Canal
Section 3: Building the Canal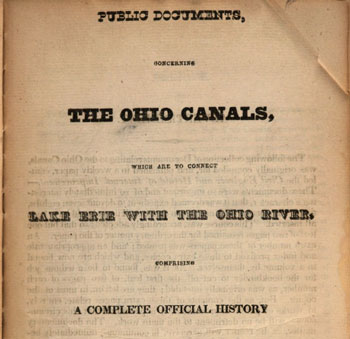 Title page, Public Documents, Concerning the Ohio Canals, compiled and published by John Kilbourn, 1828
In 1827, the first section of the Ohio & Erie Canal opened between Cleveland and Akron. This section of canal traveled a distance of 38 miles and required 44 locks to carry boats vertically from the Cuyahoga River up to Summit Lake.
"The commencement, progress, and completion of the Ohio Canals, will hereafter constitute a subject of deep and anxious inquiry. These vast and magnificent undertakings will be contemplated by future generations, among those monuments of public policy, that mark the genius of an age, and distinguish the spirit, enterprise, and capacity of a powerful people."

-- excerpt from the preface to "Public Documents, Concerning the Ohio Canals" compiled and published by John Kilbourn, 1828
---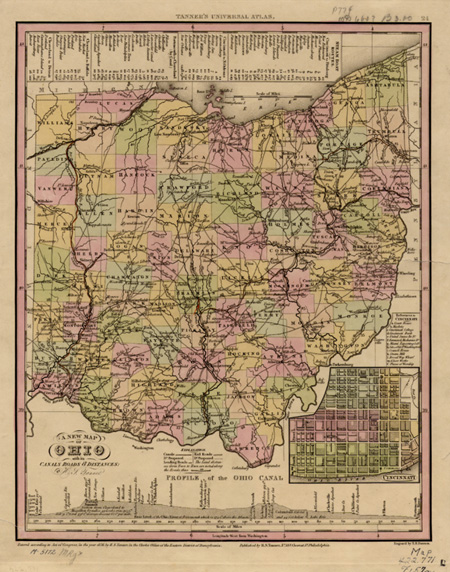 A New Map of Ohio with its canals, roads and distances
, by H.S. Tanner, 1836.
Courtesy of Map Collection, Cleveland Public Library.
By 1832, 308 miles of canal had been engineered and built from the northern terminus at Cleveland to the southern terminus at the community of Portsmouth on the Ohio River. A map produced in 1836 shows the route of the Ohio & Erie Canal, and includes a canal profile.
The main body of the canal generally consisted of a clay-lined earthen channel, usually running alongside a river, with a tow path for a team of mules and driver. A weigh lock was provided at each terminus. Lift locks, usually lined with sandstone and gated with wood, allowed canal boats to rise or descend to a new water level as needed through the use of a system of valves which either released water downstream or added water from upstream.
An adequate water supply was crucial to the operation of the canal, and, where needed, reservoirs were engineered for the purpose. Aqueducts and culverts carried the canal across bodies of water by providing elevated troughs, of wood or stone respectively, across which boats could travel. Occasionally a slackwater, or passage across a body of water, was used, in which case a towpath bridge was provided.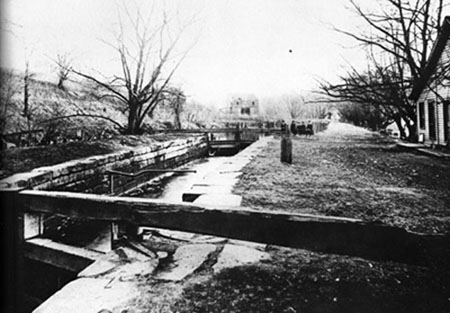 This photograph of Five Mile Lock in Brecksville shows the composition of a lock: wooden gates and sandstone block walls. Photograph from A Photo Album of Ohio's Canal Era, 1825-1913, by Jack Gieck, page 17. Used with permission.
Historic and modern photographs illustrate the design and function of the Ohio & Erie Canal. In A Photo Album of Ohio's Canal Era, 1825-1913, photographer and writer Jack Gieck has compiled images from several historic collections, augmented by more recent photographs.
A selection of images of canal locks from Cleveland Memory
---
20th Century Drawings Based on 19th Century Descriptions
The design and construction of the canal is described in the reports of the Canal Commissioners. Several these reports are contained in "Public Documents, Concerning the Ohio Canals" compiled and published by John Kilbourn, 1828.
In the early 1900s, engineers referred to the descriptions from these and later reports to produce illustrations, such as cross sections of the canal, a plan and cross section of a lock, and drawings of lock wall construction and aqueduct reconstruction.
These drawings were reproduced in the National Park Service publication, Historic Structure Report of the Cuyahoga Valley National Recreation Area, Ohio by Harlan D. Unrau and Nick Scrattish, 1984.
---
Cleveland's First Infrastructure is a project of Cleveland State University Library Special Collections, and was made possible by a grant from the Cleveland Section of the American Society of Civil Engineers. It seems appropriate that this exhibit, which highlights the achievement of civil engineers of the early 19th century, premiered during National Engineers Week and on the eve of the birthday of military engineer and land surveyor George Washington. We hope that this site will serve as a gateway through which people can learn about the canal, identify resources for further investigation of canal engineering and history, and find opportunities to visit preserved areas of the Ohio & Erie Canal in Ohio.
---