Feeding Cleveland: Urban Agriculture
A recurring theme in 20th century Cleveland that continues to the present day is that during difficult economic periods communities of people have come together to  raise food crops on city land. The working men's farms during the Great Depression, the victory gardens during World War II, community gardens established during the years of urban renewal, and the present day market gardeners of the local food movement, all provide examples of revivals of urban agriculture as a response to economic difficulties. 
During this same time period the innovative Cleveland Public Schools Horticulture Program (CPSHP) began training the first of many generations of student gardeners. Although the system-wide CPS horticulture program ended in 1978, some of these former school garden sites called tract gardens, became community garden sites. The most significant legacies of the Cleveland Public Schools Horticulture Program were the gardeners themselves.  On the commercial front, greater Cleveland was home to America's largest concentration of farming acreage under glass. (Rose, 1950) 
A summary of the history of Agriculture  in Cleveland, Ohio is available at The Encyclopedia of Cleveland History. Explore the role that urban agriculture has played in Feeding Cleveland. Agricultural Land in Cuyahoga County.  Note:  The increases that occurred in the 1930s were due to land that reverted to farmland due to failed real estate ventures.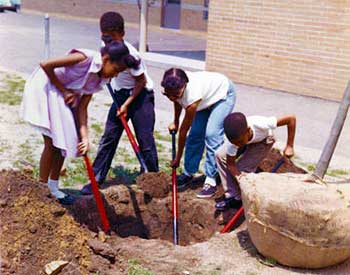 Four students dig a hole for a tree planting at school, 1962.
Digging a Little Deeper...