Feeding Cleveland: Urban Agriculture
Market Gardens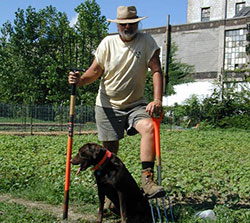 Carl Skalak and friend at Blue Pike Farm, 900 E. 72nd St, the first farm started in Cleveland proper in the 21st Century.
The local foods movement has inspired entrepreneurs to raise and sell food and agricultural products from small plots or farms in urban areas. Ohio State University Extension, Cuyahoga County offers an intensive twelve week training program to equip educate urban farmers in northeast Ohio.
By 2008, over 20 "farms", one beekeeping enterprise, several farmers' markets and Community Supported Agriculture , (CSA) programs were established in the city. The New Agrarian Center (NAC), located in Oberlin, Ohio partners with OSU Extension to market locally produced food through the City Fresh program.
Browse all Market Garden images.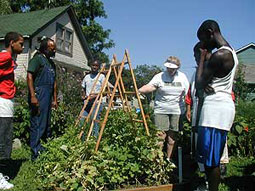 Maurice Small of New Agrarian Center: City Fresh
Foods (2nd from left) at the EcoVillage Community
Garden demonstrating the use of a trellis.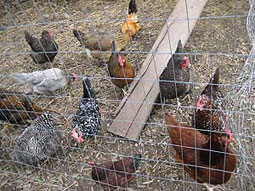 Chickens being raised in the City of Cleveland by
Herban Ninjas market gardeners, at Gather 'round
Farm, May, 2008.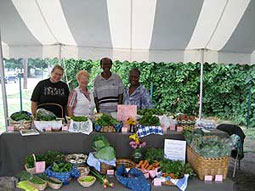 EcoVillage market gardeners, Barbara Strauss,
Marilynn Bronson, John and Olivia Yokie display
their produce for sale, July, 2007.